Are you the kind of person who is terrified of the dance floor because of how embarrassing your moves are? Well, worry no longer.
For over two decades, Socialsport Dance Club has been providing dance lessons in Montgomery County, Pennsylvania. Their studio has been a hotspot for anyone living in Abington, Rydal, Gwynedd, and Huntingdon Valley areas of Pennsylvania.
Give them a call today for a free consultation. After that, we will provide you with your own exclusive trainer for you and your partner. In just a few lessons you'll be shaking your groove thing all over the dance floor. Experience isn't necessary to work with our trainers. In a private lesson, there is no need to be worried about being embarrassed in front of others.
This way you're just embarrassing yourself in front of your significant other.
Of course, we're just kidding — in fact, when you take dance lessons at Socialsport, your significant other will probably be the most impressed of all!
Dances
There are a ton of dances to learn nowadays. Here are some of the dances we offer lessons in:
American Style
American style, also known as ballroom dancing, comes from dances to 20th-century jazz music. American style can be broken down into two categories; American Smooth and American Rhythm: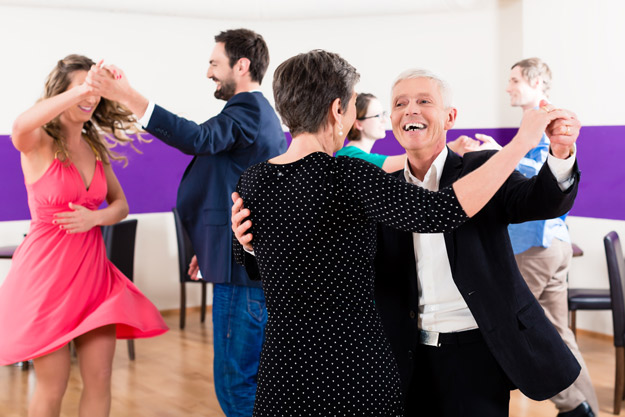 American Smooth
Waltz
Tango
Viennese Waltz
Foxtrot
American Rhythm
ChaCha
Rumba
Bolero
Mambo
Swing
International Style
International Style dancing, originally called English Style, became popular in Europe around the same time as American Style. International Style was first introduced in the United States in the 1960s. Just like American Style, International Style is broken down into two types, International Standard and International Latin.
International Standard
Waltz
Tango
Viennese Waltz
Slow Foxtrot
Quickstep
International Latin
Cha-Cha
Samba
Rumba
Paso Doble
Jive
Reasons Couples Should Take Ballroom Dance Lessons
Since you are already on the page for couples lessons, we're gonna go out on the limb and assume you have a partner in mind. Your partner may not be as excited as you are to take dance lessons. If they're on the fence, try these reasons to consider signing up for private dance lessons.
#1 Let's Get Physical
Yes, going to the gym will help you get in shape, but for many of us, sweating on the treadmill or lifting heavy weights is too much of a strain, or simply too repetitive to keep us interested. Dance lessons help get you in shape, but also are fun and engaging. And with all the dancing you're suddenly going to want to do on the weekends, you'll be well on your way towards your fitness goals.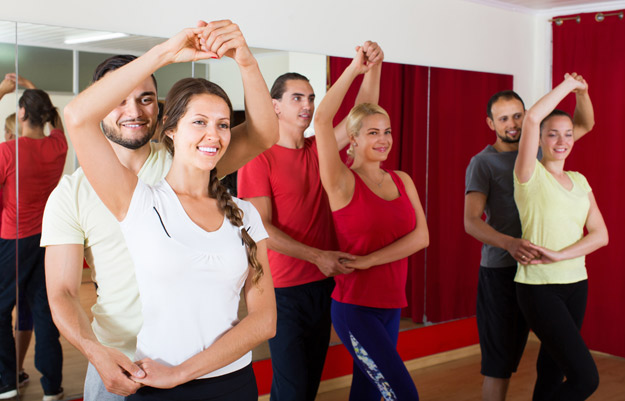 #2 What Have You Done With the Person I Know?
We have witnessed first-hand people's personalities make a complete 180 (in a good way) once they feel confident on the dance floor. Come give dance lessons a try — you never know the type of person you'll become, and we bet you (and your partner) will like them!
#3 Improve Your Night Out
Anyone who likes to shop knows where all the good stores are. The same goes for dancing. If you know how to dance, you're going to know where the best places to go dancing are. What's better than having more fun on your night out?
Anyone living in Huntingdon Valley, Willow Grove, Abington, Gwynedd, Ambler, Rydal or anywhere else in Montgomery County, Pennsylvania, should reach out to our staff to schedule private couples dancing lesson by calling 215-784-9087 today.