Are you interested in learning how to ballroom dance — but never knew where to go for lessons?
For the past twenty years, Socialsport Dance Club has taught hundreds of people living in Montgomery County, Pennsylvania, how to ballroom dance. We have the best studio in the Abington, Huntingdon Valley, Rydal and Horsham areas.
Having the confidence to get out there on the dance floor at an event takes a lot of courage. Taking up ballroom dancing is the easiest way to build the confidence to step out on the dancefloor! Almost all of our students let us know that they now feel much more comfortable dancing after a successful lesson.
After you call and receive a free consultation, we will partner you up directly with one of our ballroom dancing professionals. Within no time, you will be a ballroom dancing machine! We can work well with anyone regardless of experience. Beginners, experts, children, and adults are all welcome and encouraged to sign up for lessons.
Ballroom Dancing
Ballroom dancing is a dance that always features partner dancers, and it is enjoyed both socially and competitively all around the world. Ballroom dancing is also seen on stage, film, and television.
The "ballroom dancing" we know today has roots going back to jazz dances in the 20th century. These dances quickly rose in popularity, and a wave to popularize these dances was born. American styles of ballroom dancing can be broken down into two categories: American Smooth and American Rhythm.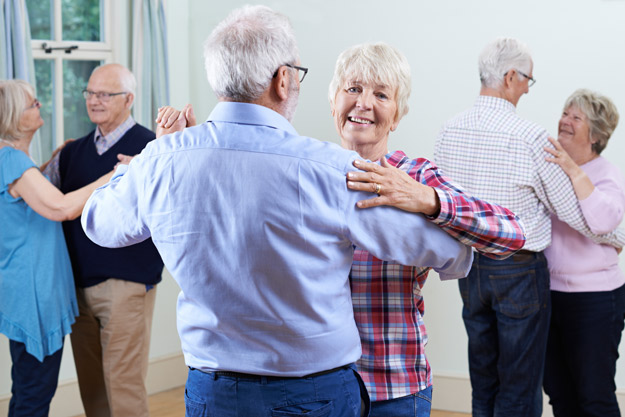 American Smooth
Waltz – A fluid dance to a slower 1-2-3 rhythm
Tango – Dramatic stalking steps with sharp contrasts between movements
Viennese Waltz – A more flowing waltz danced to a quicker 1-2-3
Foxtrot – Similar to Astaire and Rogers dancing, although the steps can be different
American Rhythm
Cha-Cha – Fast footwork that is flirty and rhythmic
Rumba – Subtle hip motion that is sensual and smooth
Bolero – Extremely similar to the American Rumba, the bolero is slowed down even more with sweeping contrasts between bending and straightening the legs
Mambo – The Mambo is classic salsa, but danced to a different beat
Swing – Some West Coast Swing built upon East Coast Swing. American Rhythm Swing is an ideal dance to learn for beginners
Reasons Couples Should Take Ballroom Dance Lessons
Since ballroom dancing requires a set of partners, it makes perfect sense for couples to take ballroom dancing together. Aside from learning to dance, here are other great reasons to take ballroom dancing with your significant partner.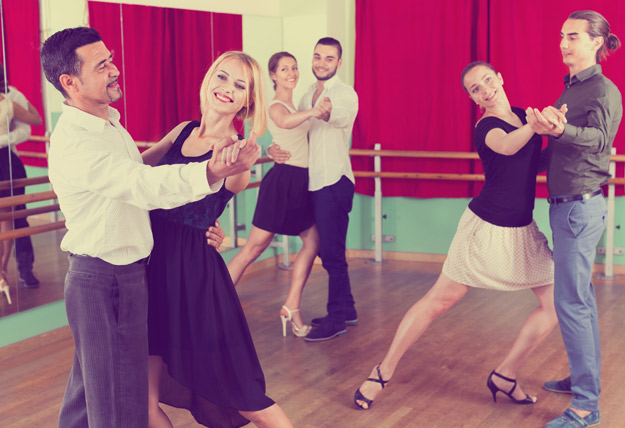 Alter Ego
Although being married is a very special time, it can sometimes get boring and repetitive. The best way to spice things up than by taking ballroom dancing lessons. Ballroom dancing, as well as other types of dancing, giving you the freedom to experience and let out another side of you. During dancing lessons, we've seen otherwise demure and quiet folks break free and become an entirely different person — one they find quite exciting!
Let's Get Physical
Ballroom dancing is a great way to stay in shape while learning something and having fun doing so. Finding time to stay in shape while managing a job, social life and other day-to-day activities can be downright difficult. If you're an adult who's lucky enough to have children, staying in shape becomes even harder. Ballroom dancing is fun and engaging and even burns up to 300 calories per lesson. So…you can have fun and burn off everything you ate for lunch? What are you waiting for?
Whether you live in Huntingdon Valley, Willow Grove, Abington, Gwynedd, Ambler, Horsham, Rydal or anywhere else in Montgomery County, Pennsylvania, reach out to our staff for private or public ballroom dancing lesson by calling 215-784-9087.